MRT Invests In A New Automated Die Casting Cell
MRT Castings has commissioned a new advanced die casting cell - further enhancing the already high quality of its die casting facilities.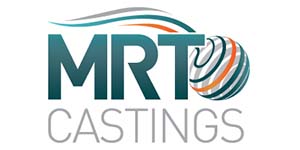 MRT is renowned for its aluminium and zinc gravity and high pressure die casting. This new investment is testament to its commitment to quality, precision and productivity.
The Colosio PFO 250 die casting cell was precision built in Brescia, Northern Italy. Its innovative features include:
Real-time shot control - by monitoring and storing process data, the advanced control system of the Colosio die casting machine affords MRT accurate repetition of all the injection parameters, pressures, speeds and strokes to ensure consistent high quality casting at all times.
Fully integrated two-axis automatic die sprayer - enabling fast, effective and consistent lubrication of even the most complex die forms.
Robotic casting extractor with integrated cooling conveyor - increasing productivity and improving repeatability.
A new Ramsell-Naber gas-fired melting furnace with recuperative burner technology, thus reducing energy consumption and emissions.
The Colosio PFO 250 delivers a locking force of 250 tonnes, making it suitable for aluminium components up to approximately 3.5kg.
Its technological advancements ensure that MRT can continue to deliver the highest quality castings and the highest tolerances.
MRT's investment in this cutting edge technology is testament to its reputation as a leading UK foundry.
Managing Director Phil Rawnson said: "Our focus has always been on precision engineering, regardless of the size of the contract, which is what makes MRT so attractive to medical and electronics industries.
"With this new addition we can continue to deliver a consistently high quality product within tighter tolerances, ensuring we continue to be an innovative provider of bespoke engineering solutions," he added.
As a smaller, elite foundry MRT is able to deliver the same high level of workmanship regardless of the size of the batch needed.
Many larger foundries will often claim that lengthy set-ups make the process prohibitive when dealing with small batches of zinc or aluminium die castings.
MRT has optimised its tooling preparation and set-up operations to make the process more accessible to customers who require only small batches.
The Colosio PFO 250 has been built to MRT's own specifications to include a number of innovative features to support fast and frequent die changes.
This will help to ensure that MRT can continue to meet the needs of clients requiring even batches of just a few hundred parts.
MRT is expert at all elements of the die casting and machining process. Its team can advise on:
Which aluminium and zinc casting alloys offer the best strength, castability and resilience for their particular projects.
The best die casting processes for customers' requirements - from sand casting and gravity die casting through to high pressure die casting.
The best CNC machining and finishing processes for each project.
MRT also offers turnkey electro-mechanical assembly solutions plus storage and shipping direct to customers' clients - enabling customers to outsource their manufacturing completely.
For more information about gravity and high pressure die casting, please contact MRT Castings Sales Director Chris Rawnson on +44 (0)1264 324021.

Contact us today to find out how we can support you with your next project.
HOW can MRT Castings help you?