MRT Boosts Productivity With New Die Casting Robots
World-class foundry MRT Castings has just invested in a new extractor robot for its largest die casting cell - speeding up operations and further enhancing quality.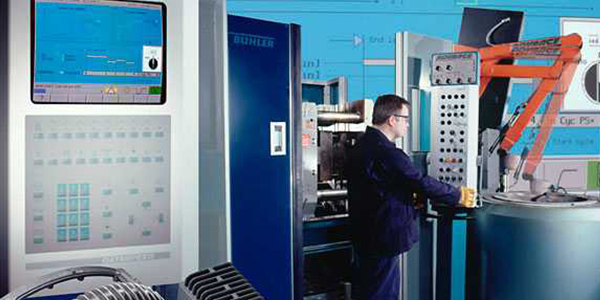 The new extractor robot on MRT's Bühler 530-tonne cell complements its robot-controlled ladle and die spray.

It means that the Bühler 53D - MRT's largest casting cell - is now fully automated.

The Bühler is the latest aluminium casting cell at MRT to undergo the upgrade. The company is planning similar improvements to its other cells to ensure the company remains at the forefront.

Manufacturers can cut costs, boost productivity and reduce time to market by choosing a foundry that invests in the latest robot-controlled casting cells.

Foundries with more automation enjoy higher productivity and superior consistency of quality - but the best technology is not restricted to larger operations.

UK-based MRT has a long track record of being at the cutting edge of high pressure die casting technology.

But being a smaller foundry, it can offer hi-tech solutions for small batch contracts as well as large projects.

MRT has also been investing in its CNC machining technology, bringing in two more machines to boost production and improve quality still further.

This means that MRT now has 13 high speed machining centres. They feature pallet changers, on-line Renishaw probing, fourth axis rotary tables and spindle speeds of up to 16,000rpm.

MRT carries out work for manufacturers from a very wide range of industrial sectors, providing a complete single source solution with casting, finishing and even assembly of components.

The £4.3 million turnover foundry's reputation for quality and accuracy has seen it gain increasing numbers of contracts involving the manufacture of safety-critical components.

More and more manufacturers of medical devices in particular are turning to the expert team at MRT for precision sub-contract casting, finishing and assembly work.

Medical manufacturers choose MRT because they need innovative design solutions, world-class production and quality control plus supply chain flexibility, even in smaller volume contracts.

The company is also seeing more work from OEMs in the defence and electronics sectors. Latest projects include hand controllers for remote weapon stations and cast housings for motion capture cameras.

Managing Director Phil Rawnson said: "It's a myth that the best casting technology is restricted to the biggest foundries.

"Choosing a smaller elite foundry like MRT gives you access to the very latest robot-controlled casting solutions - even for smaller batch contracts."

MRT is based in Andover, Hampshire. The company is accredited to ISO9001:2008 and ISO 14001:2004 and has 65 years of experience in zinc and aluminium die casting processes.

Its engineers provide specialist solutions for all stages of each die casting procedure, advising on the best method for each project, the tolerances, the choice of alloys and finishes.

Their expert advice helps designers and buyers to shorten project lead times and gain access to top quality cast components at very competitive prices.

Selecting the best process is vital. High pressure casting is the quickest route from molten metal to finished product; gravity casting has lower tooling costs but less dimensional accuracy and quality of surface finish; the sand casting process is the simplest method.

For more information about pressure, gravity and sand casting, please contact MRT Castings Sales Director Chris Rawnson, +44 (0)1264 324021.

-Ends-

Information for Editors:

MRT Castings Limited
South Way
Walworth Estate
Andover
Hampshire
UK
SP10 5JT
Tel +44 (0)1264 324021
Fax +44 (0)1264 333773
Email MRT Castings

Since its inception, MRT Castings has traded as a foundry in the UK, principally engaged in aluminium and zinc manufacture and gravity and high pressure die casting.

MRT is a privately owned family business and has continually invested in the latest technology and training to ensure it has one of the most highly skilled teams and the most advanced manufacturing facilities in the UK foundry industry.

MRT is an ISO-accredited gravity and high pressure die casting company to ISO9001:2008 and ISO14001:2004.

In 2004 MRT was awarded the Cast Metals Federation Company Achievement Award in recognition of its outstanding growth, innovation and investment within the UK casting industry.
Contact us today to find out how we can support you with your next project.
HOW can MRT Castings help you?