Increase In Complex CNC Machining At MRT Castings
More companies are turning to world class foundry MRT Castings for complex and demanding CNC machining work.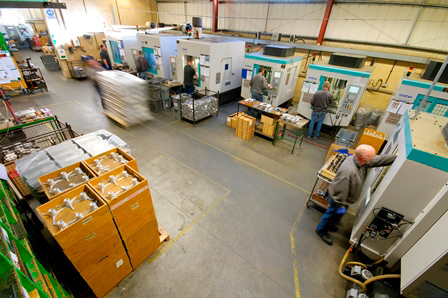 MRT's state of the art machining facility is fast becoming the hub of the operation as clients task the foundry with ever more challenging projects.
Hampshire-based MRT offers complete turnkey manufacturing solutions from project concepts, design and prototyping through to die casting, finishing, product assembly, storage and shipping.
The Andover foundry has been investing in more sophisticated CNC machining centres to further boost quality and productivity.
MRT has 13 state of the art CNC machining centres (most of them Brother). They are capable of:
tool changes in less than a second - for greater work efficiency and higher productivity
16,000 rpm machining - for faster and cleaner cutting
4th axis Rotary Tables - reducing work time, lowering component loading costs and improving dimensional accuracy
Renishaw online probing - for superior accuracy, consistency and quality control
Twin pallet loading - so operators can position and set up a pallet with one casting while a second is being machined, saving time and boosting efficiency.
MRT's machining facility is becoming busier as the foundry takes on more sand casting, gravity and pressure die casting contracts from all over the world.

In December MRT reported growth of 62 per cent over the last two years. Overseas sales increased by nearly 40 per cent during the same period with key markets being the United States, Hungary, Germany, France and Ireland.

MRT Castings Managing Director Phil Rawnson said: "CNC machining is something that our customers are specifying increasingly often so they can buy their components from a single source."

And from there it was a logical step for the clients to contract out the assembly and shipping to MRT as well, he added.

MRT carries out gravity and pressure casting, machining and assembly work across a wide range of industrial sectors but the biggest growth areas have been in medical device manufacture, defence contracts and electronics.

Manufacturers depend on MRT's casting, finishing and inspection expertise to ensure the highest standards of product quality and reliability.

So an increasing proportion of their components are used for safety-critical applications, or where excellent cosmetic appearance is required - particularly in specialist enclosures for high value electronic devices.

MRT's expert die casting and CNC machining teams can advise:
customers which aluminium and zinc casting alloys offer the best strength, castability and resilience for their particular projects
on the best die casting processes for customers' requirements - from sand casting, gravity die casting through to high pressure die casting
on the best machining and finishing processes for each project.
MRT Castings has more than 60 years of experience in producing zinc and aluminium castings. It is accredited to the ISO9001:2008 and ISO 14001:2004 quality and environmental standards.

For more details about pressure, gravity and sand casting processes, please contact MRT Castings Sales Director Chris Rawnson, +44 (0)1264 324021.
Ends-

Information for Editors:

MRT Castings Limited
South Way
Walworth Estate
Andover
Hampshire
UK
SP10 5JT
Tel +44 (0)1264 324021
Fax +44 (0)1264 333773
Email: Contact MRT Castings
Since its inception, MRT Castings has traded as a foundry in the UK, principally engaged in aluminium and zinc manufacture and gravity and high pressure die casting.
MRT is a privately owned family business and has continually invested in the latest technology and training to ensure it has one of the most highly skilled teams and the most advanced manufacturing facilities in the UK foundry industry.
MRT is an ISO-accredited gravity and high pressure die casting company to ISO9001:2008 and ISO14001:2004.
In 2004 MRT was awarded the Cast Metals Federation Company Achievement Award in recognition of its outstanding growth, innovation and investment within the UK casting industry.
Contact us today to find out how we can support you with your next project.
HOW can MRT Castings help you?