Growing Demand For Die Casting Experts MRT
Die casting experts MRT are making significant investments in new equipment to support strong sales growth over the past year.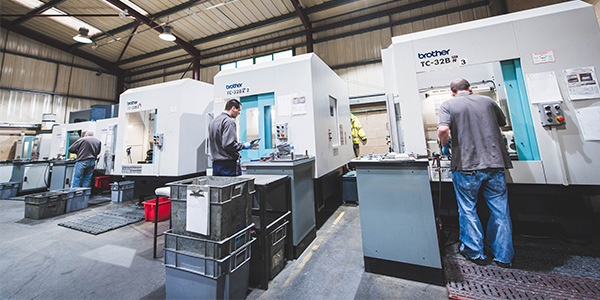 Growing numbers of designers and buyers from Europe and the United States are turning to the elite team at MRT because they get the best of both worlds:
all the sophisticated technology of a major foundry
all the small batch flexibility of a smaller foundry.
MRT is seeing an increase in work for the medical technology sector in particular, including components for market-leading international manufacturers of endoscopes, oncology equipment, and most recently, a suite of 18 components for a new range of critical care ventilators.
The medical sector is typical of MRT's core customers, who seek world class quality and production systems, innovative design collaboration on new projects, and flexible supply chain solutions, even when volumes are not always large.
But the medical devices market is merely one sector served by Hampshire-based MRT. Recent aluminium casting contracts at the £4.3 million turnover foundry include:
hand controllers for remote weapon stations
ultra-lightweight tone arms for audiophile hi-fi turntables
print heads for food labelling machines
safety lights for the offshore oil industry
gearbox cases for stairlifts.
Designers and buyers are choosing MRT because it is a single source supplier that offers complete solutions including the full range of casting processes, comprehensive in-house machining, surface finishing and even assembly of finished products.
Managing Director Phil Rawnson said: "The term 'boutique' is not generally applied to foundries - it's more commonly used in the hospitality industry - but that is effectively what we are, a small but very hi-tech quality-driven foundry, catering to demanding niche markets.
"We believe in combining the technological best practice of the biggest foundries with the flexibility of smaller foundries - meeting and exceeding the precision casting expectations of our customers."
MRT has invested heavily in the latest robotic high pressure die casting and CNC machining equipment. This includes 10 Brother high speed machining centres, featuring pallet changers, on-line Renishaw probing, fourth axis rotary tables, and spindle speeds of up to 16,000rpm.
MRT also provides full gravity die casting and sand casting services. The company is accredited to ISO9001:2008 and has more than 60 years of experience in zinc and aluminium die casting.
Engineers at MRT provide specialist solutions for all stages of the die casting process, advising on the best casting method for the job, choice of alloys, choice of finishes plus casting tolerances, section thickness and machining considerations.
Their expert advice helps designers and buyers to shorten project lead times and gain access to top quality cast components at very competitive prices.
For more information about die casting solutions from MRT Castings Ltd, please contact Sales Director Chris Rawnson, +44 (0)1264 324021.
-Ends-
Information for Editors:
MRT Castings Limited
South Way
Walworth Estate
Andover
Hampshire
UK
SP10 5JT
Tel +44 (0)1264 324021
Fax +44 (0)1264 333773
Email: Contact MRT Castings
Since its inception, MRT Castings has traded as a foundry in the UK, principally engaged in aluminium and zinc manufacture and gravity and high pressure die casting.
MRT is a privately owned family business and has continually invested in the latest technology and training to ensure it has one of the most highly skilled teams and the most advanced manufacturing facilities in the UK foundry industry.
MRT is an ISO-accredited gravity and high pressure die casting company to ISO9001:2008 and ISO14001:2004.
In 2004 MRT was awarded the Cast Metals Federation Company Achievement Award in recognition of its outstanding growth, innovation and investment within the UK casting industry.
Contact us today to find out how we can support you with your next project.
HOW can MRT Castings help you?