Designers Take Greater Control Of Die Casting With MRT
Product designers are taking greater control of die casting by cutting out the middlemen and going direct to the experts at MRT Castings.
Dealing direct with a specialist foundry on a one-to-one level gives designers maximum control over the manufacture process.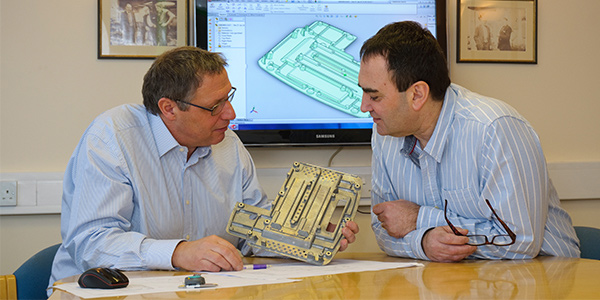 Stripping out the middlemen and instead using one expert castings company reduces the number of suppliers involved, speeding up the process and cutting costs.
MRT Castings Managing Director Phil Rawnson said: "The more suppliers you use, the more a project can be slowed by the weakest link in the chain.
"Going directly to one absolute specialist in die castings guarantees not only the quality of the work, but also that it will be carried out in the most efficient way possible."
Using a single source castings specialist to cast, machine and finish components dramatically shortens time to market, helping projects to overcome crucial hurdles.
Dealing direct with a single supplier not only speeds up the communications process and reduces stress - it also cuts out the unnecessary logistics and production costs that would otherwise be incurred by going to multiple suppliers.
Increasing numbers of designers are turning to MRT Castings for aluminium die casting as a highly efficient way of creating rugged, aestheically and dimensionally critical products and components.
They are calling on the professionals at MRT for specialist advice on which aluminium alloys are best suited to their applications - such as LM6 for marine 'on deck' castings and auto fittings, or LM25 where high strength and anti-corrosion properties are vitally important.
MRT has one of the most advanced foundries of its kind in the UK, offering designers a choice of die casting processes to help them transform their concept visions into reality.
These include gravity die casting and high pressure die casting for both zinc and aluminium - on state of the art equipment for absolute quality and product consistency.
Gravity casting at MRT offers significant quality advantages over traditional casting methods, including superior surface finishing and mechanical properties.
MRT has years of experience in gravity die casting, investing significantly in microprocessor-controlled die casting machines to optimise consistency and boost production rates.
MRT also offers pressure die casting which is highly appealing to designers requiring extremely fine engineering tolerances or excellent cosmetic finishing.
Pressure die casting is the shortest route from molten metal to finished component and MRT's sophisticated process controls guarantee consistency, whether dealing with batches of 10 or 10,000.
Other services at MRT include sand casting, toolmaking, CNC machining, surface finishing and mechanical assembly.
MRT Castings is an ISO9001:2000-accredited, family-owned foundry with more than 60 years of experience in high quality die casting.
The company has always invested - and continues to invest - in the newest technology to maintain its position at the cutting edge of UK foundries.
For more information about die casting from MRT Castings Ltd, please contact Chris Rawnson, +44 (0)1264 324021, www.mrt-castings.co.uk
-Ends-
Information for Editors:
www.mrt-castings.co.uk
MRT Castings Ltd
South Way
Walworth Estate
Andover
Hampshire
UK
SP10 5JT
Tel +44 (0)1264 324021
Fax +44 (0)1264 333773
Email MRT Castings
Since its inception, MRT Castings has traded as a foundry in the UK, principally engaged in aluminium and zinc manufacture and gravity and high pressure die casting.

MRT is a privately owned family business and has continually invested in the latest technology and training to ensure it has one of the most highly skilled teams and the most advanced manufacturing facilities in the UK foundry industry.

MRT is an ISO-accredited gravity and high pressure die casting company to ISO9001:2000. This followed registration to BS 5750 Part 2 in December 1990 and ISO 9002 in January 1995.

In 2004 MRT was awarded the Cast Metals Federation Company Achievement Award in recognition of its outstanding growth, innovation and investment within the UK casting industry.
Contact us today to find out how we can support you with your next project.
HOW can MRT Castings help you?