MRT Installs Latest Twin Pallet CNC Machining Centre
To support high levels of demand and our continual drive to employ the latest machine tool technology, MRT Castings Ltd have purchased a new Brother R650X2 Twin Pallet CNC Machining Centre.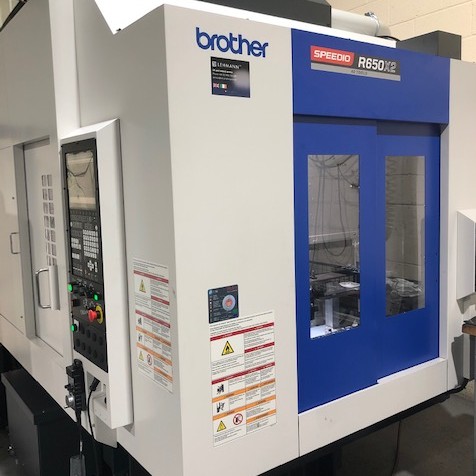 The first machine of its type to be delivered in Europe by the Japanese manufacturer, the R650X2 is a new superfast, ultra-flexible, and highly productive evolution of the tried and tested twin-pallet machines which have been the backbone of MRT's machining facilities for the past 20 years.
The R650X2 features a 16,000 rpm spindle and a larger working envelope; 650 in the X-axis, 400 in the Y and 435 in the Z. To achieve maximum productivity, the twin pallet changer allows in-cycle loading on one fixture, whilst machining is being undertaken on the other.
The R650X2 is also equipped with a 40-tool magazine – the largest available in Brother's Speedio family of machine tools. Both pallets are fitted with Lehman high speed rotary tables, enabling 4-axis machining. To ensure complete accuracy, the machine is also equipped with Blum probing for part and tool checking.
This latest investment follows installation of a Brother M140X2 Mill-Turn cell with Feedio robotic loader in April 2019 - bringing the total number of Brother machines on site to 20.
MRT's standardisation on machines from a single supplier maximises our flexibility, with products being easily interchangeable between machines to maximise available capacity, alongside the clear benefits of standardising fixturing, tooling and operator training.
You can find out more about MRT's CNC machining facilities here.
Contact us today to find out how we can support you with your next project.
HOW can MRT Castings help you?