Die Casting Foundry MRT Reports 62 Per Cent Growth
World class die casting specialist MRT Castings has reported growth of 62 per cent over the last two years.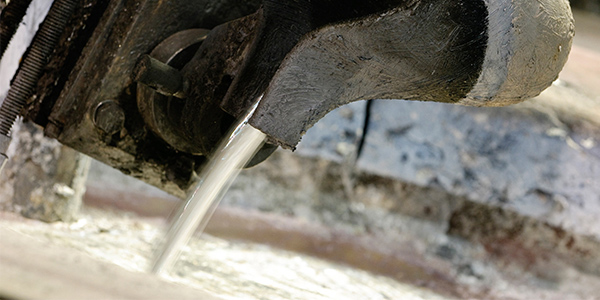 Annual turnover last year hit £4.3 million at the rapidly expanding foundry which now employs 50 staff.

Significant increases in overseas sales have helped to drive the strong revenue growth at UK-based MRT. Exports have risen by 38 per cent in the last two years.

MRT's rapid organic growth comes against a background of difficult times elsewhere in the industry. Many of its competitors have been struggling to compete in the manufacturing downturn.

Strong investment in new technology has helped to drive growth at MRT. The Hampshire company is currently in the process of acquiring another new robot-controlled high pressure die casting cell, due for installation in May 2013.

The new cell will further speed up production and increase MRT's capacity for its specialist die casting work.

Earlier this year MRT added a new extractor robot to its Bühler 530-tonne die casting cell to boost productivity and enhance quality still further.

The new extractor robot means that the Bühler cell - ­ the largest of its kind at MRT ­ - is now fully automated.

MRT Castings Managing Director Phil Rawnson said: "The last two years have been very good for us and next year looks to be even more exciting.

"There are many new opportunities for cast enclosures and components in MRT's key markets and we're winning a bigger share of the work of that type that is out there."

The biggest export markets for MRT are now the US, Ireland, Hungary, Germany and France.

"We are concentrating more on the high tech market and are moving further up the supply chain," said Mr Rawnson.

MRT offers its clients a complete single source solution - ­ from the initial project concept stages to pressure, gravity and sand casting then finishing and assembly.

The expert team at MRT can:
advise on the best aluminium casting alloys to optimise castability, strength, and durability in service
advise on the most suitable casting processes ­ - high pressure die casting, gravity casting solutions and sand casting
carry out complex CNC machining and surface finishing
source components, assemble finished products, package them, store them and ship them to the clients' customers.

Electronics and electrical companies in particular are capitalising on MRT's turnkey solutions - ­ tasking the Andover foundry with large electro-mechanical projects.

MRT this year doubled the size of its assembly facilities to meet growing demand for this service.

The company has at least six decades of experience in casting and finishing aluminium and zinc. It is ISO9001:2008 and ISO 14001:2004 accredited.

For further information about pressure, gravity and sand casting techniques, please contact MRT Castings Sales Director Chris Rawnson, +44 (0)1264 324021.

-Ends-

Information for Editors:

MRT Castings Limited
South Way
Walworth Estate
Andover
Hampshire
UK
SP10 5JT
Tel +44 (0)1264 324021
Fax +44 (0)1264 333773

Since its inception, MRT Castings has traded as a foundry in the UK, principally engaged in aluminium and zinc manufacture and gravity and high pressure die casting.
MRT is a privately owned family business and has continually invested in the latest technology and training to ensure it has one of the most highly skilled teams and the most advanced manufacturing facilities in the UK foundry industry.
MRT is an ISO-accredited gravity and high pressure die casting company to ISO9001:2008 and ISO14001:2004.
In 2004 MRT was awarded the Cast Metals Federation Company Achievement Award in recognition of its outstanding growth, innovation and investment within the UK casting industry.
Contact us today to find out how we can support you with your next project.
HOW can MRT Castings help you?